Welcome to the antioch weekly!
This page is meant to help you find quick info and links to the weekly highlights from our Sunday gatherings as well as our weekly announcement video! If you are wanting to find info and registration for a specific ministry zone that isn't located here, don't worry! You can find
all
of our events on the Events tab of this app!
As always, if you have any questions at all, just drop us an email at
communications@antiochnorman.com
. Have a great WEEK!!
weekly highlights | march 8th
TONIGHT from 6-7:30PM, we are so excited to be having a Church-Wide Worship Night! The aim of this and upcoming worship nights is simply to set aside an evening to be in the presence of God as a family, and to enjoy Him! You don't want to miss it!

Our Kids JAM Session will be from 5:30-7:30 and we will will have dinner for them! Go to the event page to get them registered!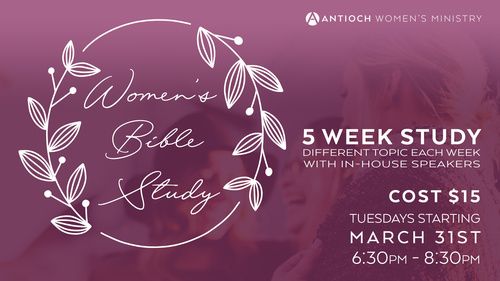 Our Women's Bible study is not a standard study this time! There is no homework and we will be studying a new topic each week with in-house speakers sharing with us. It is sure to be a time of fun, fellowship, and growth in our relationship with God and each other!
We are so excited to encourage ALL MOMS to come for powerful and victorious teachings on marriage, parenting, identity and tools for your tool belt to see our families walk in the fullness God has already prepared for us to walk in! NEST happens Thursday mornings from 9:30-11:30AM and starts March 26th. Get signed up today!
Antioch Norman is a part of a city-wide prayer initiative to pray for our city! We will be joining with other churches around the city to set aside time to pray for Norman. Join us on the FIRST WEDNESDAY of each month, during lunch, from 11:30AM-12:30PM at Countdown Event Center, 408 24th Ave NW, Suite 132. Let's pray for our city together!